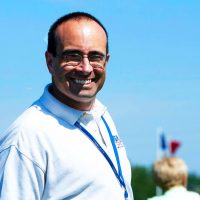 While St. Joseph's Phil McDonald got the thrill of his life last year when his beloved Chicago Cubs won the World Series, he will personally rub shoulders this fall with some pretty special people himself, not the least of which will be Detroit Pistons Head Coach Stan Van Gundy. So what's the occasion? Well, Mr. Southwest Michigan Sports will be inducted into the Basketball Coaches Association of Michigan Hall of Honor for his long and distinguished career behind the play-by-play microphone at WSJM Sports Radio.
The Basketball Coaches Association of Michigan (BCAM) was incorporated in the summer of 1976, focused on the betterment of basketball in the state of Michigan. Forty years later, BCAM has shown that it is the voice of high school basketball in Michigan, and has also gained respectability nationwide by being a leader in clinics, academic awards, scholarship programs, websites, awards for players and coaches, official – coach relationships, and as a policy setter for national concerns.
Phil will be the only member of the media inducted during ceremonies on the biggest weekend of the year for that association — October 14th and 15th following the BCAM Basketball Clinic on the campus of Oakland University in Rochester/Auburn Hills, Michigan. The actual Hall of Fame & Hall of Honor ceremonies will take place at the Auburn Hills Marriott Pontiac on Saturday, October 14th.
Phil has been with WSJM and Mid-West Family Broadcasting in St. Joe and Benton Harbor for his entire broadcast career, spanning some 25 years. He's a graduate of Lake Michigan Catholic High School and Albion College, and has covered high school sports on WSJM for most of those years. Last year he became the weekday morning drive host of Morning Sportsbeat on AM-1400 and FM 95.7, and is long time host of the Saturday morning Coaches Show during high school sports seasons with live roundtable discussions with area coaches and players.
Phil has also been an active and dedicated volunteer for the Junior Achievement programs in the area teaching students about business, and has emceed many Blossomtime community pageants over the years including the Mr. & Miss Blossomtime Pageants each year at Lake Michigan College with Lainie Howard Von Behren.
The Basketball Coaches Association of Michigan named Phil as being among their award winners this week and announced speakers for the clinic and award ceremonies, which include the following:
Greg Kampe – Oakland University Men (full team practice)
Jeff Tungate – Oakland University Women (full team practice)
Mike Neighbors – Arkansas Women
Chris Mack – Xavier Men
Stan VanGundy – Detroit Pistons
Robyn Fralick – Ashland (OH) Women
Brad Underwood – Illinois Men
Steve Wojciechowski – Marquette Men
The Hall of Fame/Hall of Honor Banquet which will fete Mr. McDonald and others will begin at 5:30pm with a hospitality hour followed by the banquet at 6:30pm, at the Marriott located at 3600 Centerpoint Parkway in Pontiac.
This year's Hall of Fame Inductees:
Mary Cicerone – Bloomfield Hills Marian HS
Greg Kampe – Oakland University
Kurt Keener – Detroit Country Day School
Paul Polfus – Carney-Nadeau HS
This year's Hall of Honor Inductees:
Assistant Coaches:
Michael Perry – Mt. Morris HS
Greg Rogers – Midland Dow HS
Pete Wright – Northville HS
Friends of Basketball:
Jim Martin – GR Catholic Central HS
Bob Noorman – GR Covenant Christian HS
Ted Wildermuth – Marysville HS
Media:
Phil McDonald – WSJM Sports Radio, St. Joseph
Officials:
Ron Applegate – Haslett, MI
Awards will also be given for 2017 BCAM Coaches of the Year and Century Club (milestone coaching wins).
Stan Van Gundy was named Head Coach and President of Basketball Operations for the Detroit Pistons in May of 2014.
Photo of Phil McDonald courtesy of Gregg Rizzo.