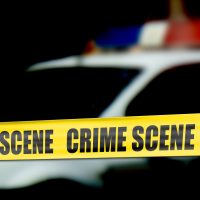 An early morning break-in at a popular Stevensville gun shop is being linked to a police chase and fatal crash that happened a short while later.
A fiery crash resulted in at least one death, and authorities will conduct a press conference this afternoon to fill in the media on the rest of the story.
A burglary call came in from the Black Arsenal gun dealership and police from several agencies immediately responded. That response appears to have spawned a police pursuit that headed east, away from the lake, and the resultant crash on M-139 near Rockey Weed Road. The highway was closed for a period of time from John Beers Road to Rockey Weed, as firefighters and other investigators processed the scene of the crash.
Berrien County Undersheriff Chuck Heit says that the crash occurred just after 5am this morning, and authorities will conduct a press conference at 1:30pm today.
In addition to his team from Berrien County, other agencies that assisted include the Michigan State Police, the Michigan State Police Traffic Crash Unit, the Royalton Township Fire Department, and Medic 1 Ambulance.
No names have been released concerning the break-in, chase or crash.
We'll have further details following the press conference this afternoon.