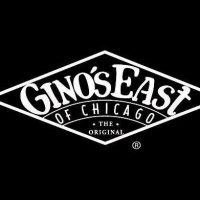 Gino's East fans can stop wondering when the famous pizza maker's first Michigan pizzeria will officially open for business. The answer is a week from Friday in downtown South Haven.
Ever since word arrived on the scene three months ago, Facebook fans of the iconic Chicago-based pizza company have been slavishly begging to learn the opening date. With original plans to be open in June, things were starting to get edgy as both the company and fans were scrambling for answers.
Now that most of the hiccups seem to have been resolved, Gino's East South Haven Manager Zak has spilled the sauce — the first official day will be Friday, July 20th at the new double decker location at 248 Broadway in the city.
Gino's East will host a one day only "soft opening" exclusively for invited guests the day before opening day. That Thursday, July 19th, event is limited to 80 people and their guest who will be selected at random and messaged privately with an invitation based on entries at their Facebook page to a post about the soft opening.
Caution: You MUST have a formal invitation for that event and there will be no exceptions. Each invited person can bring one (and only one) guest, and the "soft opening" offer will be available at 50-percent off the menu price. All alcoholic beverages will be full price during the event. No walk-ins will be accepted that day — so don't even try.
It was a logical move for Gino's East to add their first Michigan pizzeria in the South Haven market with the huge surge in summertime population liberally peppered with Chicago folks in search of fun in the sun.
The new Gino's East is anchored in the former Joe's Bar & Grill, which was a tire shop long before Joe's came along. The spacious outdoor rooftop deck and extensive ground level outdoor seating were a huge draw for the Chicago deep dish notables.
It marks the 16th site for Gino's East, with the majority of the chain anchored around the Chicagoland area, but also with locations in Arlington, Texas…Atlanta, Georgia…and Nashville, Tennessee as well as two in Mexico. While a number of retailers carry frozen versions of the Gino's East lineup, this is the first from-scratch option by Gino's in Michigan's Great Southwest.
They've been a staple in Chicago for 52 years after launching there in 1966 and becoming a true destination attraction.