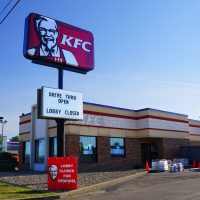 If your bucket list this week includes an actual bucket — as in a bucket of KFC Extra Crispy fried chicken for your next picnic — you're back in luck at the Benton Harbor restaurant, but only at the drive-thru window for now.
Aurelia Smith is the General Manager at the Benton Harbor KFC Restaurant on M-139, and she tells me that the drive-thru portion of the facility is now back in service as renovations continue at the site, but the dining room is still off limits due to the construction projects underway inside and out.
Smith tells me that the kitchen modernization was the first priority so that they could minimize the impact of the facility's down time. Now that the kitchen work is complete, the staff is back making your favorites for delivery through the drive up window at 1957 M-139 in the front lot of the Fairplain Plaza.
Work continues on the dining room and restrooms even as contractors have stripped the signage from the building, removed the red & white striped cupola and the over-sized portrait of Colonel Harland Sanders from the front facade. New facade improvements are next and Smith says that the goal is to complete all work and be re-opened fully for business inside and out by the first or second week of August.
The upgrades for KFC continue the drive to modernize, refresh and renew the world of fast food in Southwest Michigan. Following closely on the heels of the recent re-construction and re-opening of the Pipestone Road Burger King, and last year's refresher at Taco Bell right next door. KFC of Benton Harbor launched the considerable makeover, on Monday, June 25th and crews have been working around the clock ever since.
The shut down also allowed crews to undertake replacement of a malfunctioning air conditioning unit there which had given out in recent weeks.
The shutdown was tough for hard core fans because the only other active KFC in Berrien County is located at 1295 S. 11th Street in Niles. The former KFC at Hilltop and Cleveland in St. Joseph closed down in January of 2016. Now at least you can get your fix through the drive up window on M-139.
Many of the fast food enterprises across the region have been updating buildings and decor to match newer trends to things like digital menu boards, increased usage of large screen TVs and other upgrades. In the last couple of years new Burger Kings have been installed in St. Joseph, Stevensville, Watervliet, and on both M-139 and Pipestone in Benton Township. The Taco Bell alongside the KFC got a makeover last year, and McDonald's has freshened and modernized facilities in Coloma, Benton Harbor, St. Joseph and Stevensville among others.