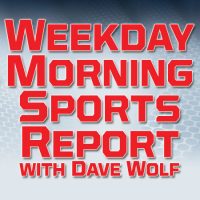 MLB – Major League Baseball
Last Night
Los Angeles Angels 11, Detroit Tigers 5
New York Yankees 4, Chicago White Sox 3 – 13 Innings
Chicago Cubs 5, Kansas City Royals 0
Angels 11, Tigers 5 – Ohtani, Upton hit Halos past Tigers 11-5 on Trout's birthday
Shohei Ohtani hit a three-run homer during a seven-run first inning, and the Los Angeles Angels celebrated Mike Trout's 27th birthday with an 11-5 victory over the Detroit Tigers on Tuesday night. Trout missed his sixth consecutive game with a sore right wrist, but his teammates maintained a celebratory mood at the Big A with 13 hits in their second straight win over the Tigers. The two-time AL MVP is unlikely to play until the weekend at the earliest, yet a big crowd wearing giveaway T-shirts bearing Trout's uniform No. 27 still went home happy. Rookie catcher Francisco Arcia had a two-run single during the first-inning outburst, and Justin Upton later added a two-run homer. The Angels haven't lost a home series to the Tigers since August 2009. Jeimer Candelario hit a two-run homer in the fifth and drove in three runs as the Tigers emerged from their four-game offensive funk, but still dropped to 0-5 on their six-game California road trip.  The Angels' first eight batters reached base with six hits, an error and a walk against Jacob Turner (0-1), who lasted just one inning in his first appearance for Detroit since 2012. Turner, a former Tigers prospect who returned on a minor league deal this season, struggled in the rotation spot opened by Mike Fiers' trade to Oakland.
Yankees 4, White Sox 3 – 13 Innings – Andujar hit, Gray relief lift Yankees over White Sox in 13
Miguel Andujar homered and singled in the go-ahead run in the 13th inning, Sonny Gray won in his first relief outing since 2013 and the New York Yankees beat the Chicago White Sox 4-3 on Tuesday night.  Andujar had three hits, including a go-ahead single in the 13th, and Giancarlo Stanton added a two-run shot as New York won its second straight following a five-game skid.  Gray (9-8) pitched three scoreless innings in his first appearance since losing his spot in the starting rotation. He allowed a hit and a walk while striking out four. Gray hadn't come out of the bullpen since his rookie season with Oakland. After Stanton's homer made it 3-1 in the 10th, Jose Abreu hit a two-run homer against Zach Britton in the bottom of the inning.  Didi Gregorius started the 13th-inning rally with a one-out walk against Luis Avilan (2-1). After Gleyber Torres struck out, Luke Voit singled to put runners on first and second. Andujar then singled to left, scoring regorius.
Cubs 5, Royals 0 – Montgomery, Bote lead Cubs to 5-0 victory over Royals
Mike Montgomery allowed five hits over six-plus innings, David Bote drove in a career-high three runs and the Chicago Cubs beat the Kansas City Royals 5-0 Tuesday night. Montgomery (4-4), who the Royals drafted in the first round in 2008, picked up his first win since June 29. Montgomery is 3-0 with a 0.40 ERA in four appearances against the Royals.  Bote's first career triple with two out in the first scored Ben Zobrist and Jason Heyward. His fifth inning single scored Javier Baez.  Victor Caratini, who led off the inning with a single, scored on Zobrist's sacrifice fly. Zobrist left in the bottom of the inning with left hip tightness.  Ian Happ's sacrifice fly in the eighth scored Bote with the final run.  Royals rookie Brad Keller (4-5) was removed after six innings, allowing four runs on seven hits and three walks. The Royals had only one runner past second base, when Adalberto Mondesi swiped third in the seventh. The Royals have lost six straight and are 14-43 since May 30. They are tied with Baltimore for the worst record, 34-79, in the majors.
Today
Detroit (Hardy 4-3) at L.A. Angels (Barria 6-7), 4:07 p.m.           WSJM Sports/Cosy-FM 3:40
N.Y. Yankees (Severino 14-5) at Chicago White Sox (Giolito 7-8), 8:10 p.m.
Chicago Cubs (Quintana 10-7) at Kansas City (Fillmyer 0-1), 8:15 p.m.
WNBA – Women's National Basketball Association
Last Night
Minnesota Lynx 85, Chicago Sky 64
Seattle Storm 94, Indiana Fever 79
WNBA – Las Vegas forfeits WNBA game canceled over travel delays
For the first time in WNBA history, a team has forfeited a game.  The league ruled Tuesday that Las Vegas will get a loss for its game against Washington that was canceled when the Aces players decided not to play because of concerns about their health and safety after 26 hours of travel.  The Aces needed more than a day to get to Washington from Las Vegas because of flight delays and cancellations Friday. By the time the team reached its hotel it was 3:45 p.m. — about four hours before the scheduled tip. The Aces players talked things over and spoke by phone with the union Friday. They called the league to say they did not want to play.  The league said it "worked extensively" with both teams to find a "workable solution." The WNBA added it delayed the start of the game until 8 p.m. to give the Aces as much time as possible after their arrival.  "While not ideal, it was the best available solution to accommodate both our fans and the scheduling challenges," WNBA President Lisa Borders said in a statement. "Since the Aces chose not to play, the result is a forfeit."
NCAAMBB – Michigan's Beilein has successful double bypass surgery
Michigan basketball coach John Beilein underwent a double-bypass heart procedure and is expected to make a full recover, the school said Tuesday.  The procedure was performed Monday by Dr. Francis Pagani at the University of Michigan's Samuel and Jean Frankel Cardiovascular Center. Athletic director Warde Manuel described the operation as "proactive" and said Beilein was resting comfortably with his family by his side. He is expected to leave the hospital in a few days. "I feel grateful and blessed that this surgery was performed at the University of Michigan," Beilein said in a statement. "I am going to work very hard in my rehabilitation to be stronger than ever by the time practice begins for this upcoming season."  The 65-year-old Beilein won't go on the team's trip to Spain from Aug. 17-26. Assistant Saddi Washington will serve as interim coach during Beilein's recovery.Pagani said Beilein underwent a two-vessel coronary bypass graft surgery.
NHL – Stan Mikita, who led Blackhawks to 1961 title, dies at 78
Hockey Hall of Famer Stan Mikita has died at 78.  His death was announced Tuesday by the Chicago Blackhawks, the team he helped lead to the Stanley Cup in 1961. The Blackhawks did not disclose details but said he was with his family.  Mikita spent his entire 22-year NHL career with the Blackhawks and is the team's all-time leader with 926 assists, 1,467 points and 1,394 games played. He's also second to Bobby Hull with 541 goals.  Mikita became the first player to have his jersey retired by the Blackhawks in 1980. He was inducted into the Hockey Hall of Fame three years later. His career was recognized in the 1992 movie "Wayne's World," in which he played himself as the owner of the Stan Mikita Donuts restaurant.
NBA – Magic will hosts Bulls, Jazz in Mexico
The Orlando Magic will play a pair of regular-season games in Mexico City in December. The Magic will host the Chicago Bulls on Dec. 13 then play the Utah Jazz on Dec. 15. It is the third straight year that the Arena Ciudad de Mexico has hosted the NBA.
NFL – Hall of Famer Brown says he'd stand during anthem
Hall of Fame running back Jim Brown says he would never kneel during the national anthem. The Cleveland Browns great and social activist said Tuesday night that he respects players' rights to do what they want, but his preference is they would stand during the "Star Spangled Banner."  Brown spoke before an HBO premiere of "Hard Knocks," which is chronicling the team in training camp. He championed civil rights during his playing career and became an activist in retirement.
MWL – Midwest League Baseball
Last Night
No games last night
Tonight
Dayton at Lansing, 7:05 p.m.
Great Lakes at South Bend, 7:05 p.m.
West Michigan at Bowling Green, 7:35 p.m.